Working on the new album. We are hoping to put it out in 2024. We are having so much fun creating this new music and are hoping that it you all will find a favorite song from the album. 09/23/2023

John Vestman passed on Nov. 30, 2021. Our hearts are broken. John has been in our lives for the last 25 years. He was a wonderful person to us. He gave everything to music. John was a gifted engineer and worked with sounds. Making everything better. John was a gentle soul. Rest in Peace We will miss you every day. We love you.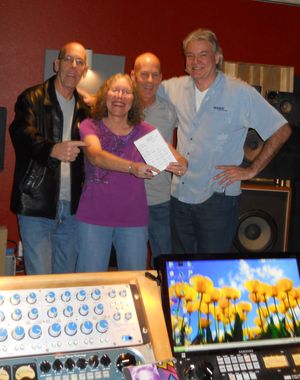 A film production crew came to Abq. to film a romcom. They asked Jeff & Tom to play a couple of crazy guys in the film. So much fun!! 
We love making music so we are now offering downloads of our complete music catalog for FREE. Get all 49 songs and stand by for our 5th album. The best one yet.  11/25/2018
The new album ORGANIZED MAYHEM is now available. Downloads/Physical. 7/20/2017
The new album is in pressing. We have an estimated release date of July 30th 2017. We will keep you updated. Thank you all for your support. 6/30/2017
We are on our way to Anaheim, CA to have our album Mastered with John Vestman. So excited! 4/16/2017

New album is right around the corner. We are so excited. It sounds fun and fantastic! 3/28/2017

Late Arrival went to Frogsville Studio in Santa Fe, New Mexico for pre-production on our 4th album. Working hard and had a great time. Thanks, John! 12/2016